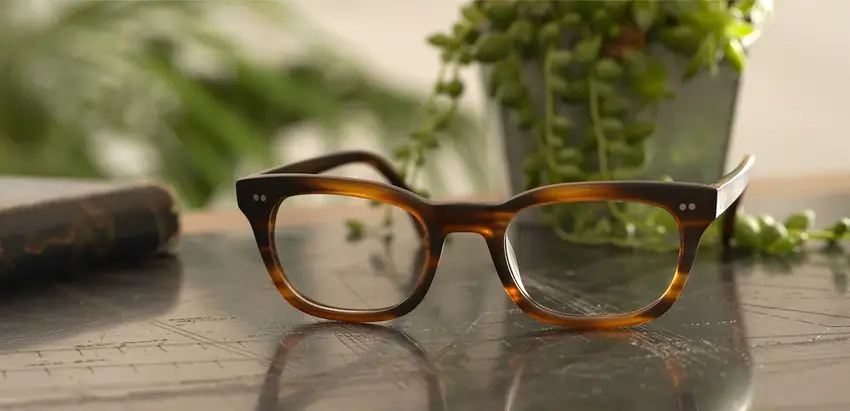 How To Choose The Most Flattering Eyeglasses Frames For Your Face?
If you've ever tried to find a way to make yourself look your best, chances are you've turned to the idea of choosing the right glasses to enhance your appearance. Frame styles are as diverse as people are, and it's easy to get confused when trying to figure out which ones will work with your look and which ones will make you look like an amateur the next time you go out.
Everyone knows that having suitable metal eyeglass frames can make a huge difference in how others perceive your appearance. However, many people struggle with choosing their frames and often go for the ones they think look nice.
This can backfire a bit, though, because people find it difficult to discern what will look good on them rather than just going with something that has been recommended to them by someone else. With so much choice available these days, it can be tricky to know where to start.
If you're the kind of person who likes to make sure that everyone knows how fabulous you are, then you should know how to choose the right glasses for your face so that everyone can understand that, too.
However, it's not as simple as picking something because it's the "right" glasses. There are so many factors to consider that you'll want to make sure that you understand precisely why you're choosing what you're choosing before making your purchase.
Here are a few ways to ensure that you get the right frame for your face.
1. Figure Out What You Want To Achieve With The Eyeglasses Frames
This is possibly one of the essential steps in choosing your eyewear, and it should be one that you take seriously.
Many different things can go into thinking about what kind of frames you want, with some people being more concerned about how they look from the side and others being more focused on how they appear from the front on. However, there are many things to consider, with your personality being one of them.
1.2. Know What Looks Good On You
This mostly concerns the face shape you have, with some people having a round face, for example, while others have more angular features. To get an idea of this, it can be helpful to study pictures of yourself and see how various things look on your face.
This will help you decide on multiple styles that you may be interested in, with specific shapes preferred to others.
Also Read: Top 7 Best Blue-Light Glasses in 2022
1.3. Consider Your Style And Tastes
It can be a good idea to consider how your glasses frames will fit in with the overall style of your clothing and personal accessories. For example, if you're wearing more formal glasses, you may want to choose something that has more formality and doesn't clash too much with what you're wearing.
This is different from the case if you were going for something like a pair of sports glasses, where they almost need to match one of your sporting outfits with an outstanding eyeglass frame brands list.
2. Know Where To Buy Your Glasses Frames From
Not surprisingly, this is a huge decision, and you have to be sure that you're buying from the right place. There are many stores and websites out there that sell metal eyeglass frames for cheap, but it's still worth doing some research on any provider you're thinking about using.
It can be helpful to look at customer reviews and see what people have had to say about them in the past. You may also want to do some research into their return policy and the warranty that comes with any eyewear that is sold on their website.
3. Choose A Wide Range Of Different Styles And Colors
One thing that is often forgotten about glasses frames, though, is that there are many different types to go for, and you can choose the ones you like. Take the ability to mix and match your eyeglasses frames and the choice in colors with the best eyeglass frame brands list.
This means that your glasses can be one of a kind and match your style more than ever before. There's nothing wrong with buying different colored frames for a change rather than always going for just one kind.
4. Have Fun With It
The most important thing to remember when choosing your eyewear is having fun. These things will change how you look and how others view you, so make sure that you're happy with the way you look at the end of it all, and don't be afraid to think outside of the box.
5. Do Your Research When It Comes To Finances
One of the most important things to consider when choosing your eyeglasses frames is how much you are willing to spend on them.
After all, this can be a significant amount of money that you're investing into something you're wearing every day, and people will start to notice them if you don't look after them properly.
This is why it's essential to consider the cost of any glasses frames before making a purchase. The cheapest glasses will be out there, but they won't always be the best quality, and you may spend more on them in the long run.
6. Consider Finding Out About The Different Types Of Glasses Frames
This is especially useful if you've got more than one pair of glasses to choose from, with some retailers and websites having a lot more choices than others. For example, you can get basic styles made up of plastic or metal frames, but these may not be ideal for everyone.
On the other hand, there are several other styles that you can go for that are more stylish and come at a much higher price tag. There are even different designer eyeglasses available, too, and they're great for matching your outfit perfectly.
7. Don't Be Afraid To Shop Around
Online shopping can be a good option, with many websites offering loads of different round eyeglass frames for cheap. However, it's also important not to spend too much money on anything online as you may not always be able to return it if something goes wrong and you find you don't like it after all.
You could also find that the quality is not what you would have expected, which could dampen your shopping experience. It's therefore worth looking at some of the other places that sell glasses and seeing what they have on offer.
Also Read: Top 5 Best eyeglasses online 2022
8. Get Any Warranty Or Guarantee Information In Writing
If you're spending a lot of money on something, you want to be sure that you get your money's worth, and this is where having some warranty or guarantee on the round eyeglass frames can come in.
Ensure that you get any guaranteed information in writing so that there are no problems if anything goes wrong. This will also make it easier for you to claim a refund or replacement if need be and stop you from being charged for it in the first place.
9. Consider Your Needs When Choosing The Right Glasses Frames
There are a lot of different things to consider when buying eyeglasses frames, but they can all be broken down into a few main requirements, with these being: safety, comfort, and style.
For example, if you're looking for something affordable, you may want to get some simple plastic or metal frames, whereas if you want something that looks good or that you'll love wearing every day, these could be more expensive and come with a high price tag.
This doesn't mean that you have to spend loads of money though, as several styles can be bought relatively cheaply.
10. Take Care Of Your Eyes
The final thing to consider when purchasing glasses frames is how they'll affect your vision, and this can be broken down into two main things: eye health and eye safety. When it comes to eye health, you want to be sure that the glasses you buy are not going to strain your eyes or cause any issues.
This is especially true if you're buying a prescription eyeglass frame size chart or a high prescription by checking the eyeglass frame size chart. On the other hand, with something as important as your eyesight, it's worth taking steps to ensure that anyone who wears the glasses is safe from harm.
It's therefore worth doing some research and checking that it's a good deal for both you and them.
11. Take Care Of Your Glasses Frames
In the same way as health, it's essential to ensure that you're taking good care of your glasses frames to ensure safe from harm. This is especially true if you're wearing any prescription eyeglasses frames, as these are much more delicate than non-prescription ones.
It's also worth taking good care of the lenses to ensure that they stay clear for longer and can't be replaced with cheap copies. If something happens, though, make sure you follow any advice or steps that come in writing, so you'll still be protected in the case of an issue.
Additional Tips To Choose The Most Flattering Eyeglasses Frames For Your Face:
1. When shopping for eyeglasses, make sure you have at least three different pairs in your hand. This will help ensure that you get the best eyeglass frames brand for your face shape. Even if they don't fit right the first time, they usually work okay afterward.
That way, you'll know what frames are best for you in general so that it will save time and money later. Try different styles and shapes to see which looks right on your face.
2. If you are looking through a catalog or a display, imagine how you look in those eyeglasses. Not every pair of frames will look good on everybody, and there is no way to know that until you try them on. You may have to order eyeglasses online to get the right fit.
3. Be sure that your glasses aren't an uncomfortable fit. If they don't feel right on your face, it could lead to headaches, blurred vision, or eye strain. Make sure that the frames aren't too tight (or too loose) around your ears, nose, and nose bridge. Also, make sure they do not pinch your nose or cheeks.
4. The right eyeglasses frame should be comfortable to wear all day. Just one or two hours of the day will make a difference. You don't want to be looking at yourself in the mirror constantly, wondering if you still look good.
5. Find out what type of lens coating is used in your glasses. The more expensive the frames, the more careful manufacturers are about maintaining clear and crisp vision throughout the day.
The less costly lines often use plastic lenses that will begin to tint over time, becoming blurry as you move further from your point of view.
6. Check for durability. You want your frames to feel like they can take a lot of wear and tear. Even if you don't end up wearing them every day, you still want them to be dependable.
You never know when an accident might happen, and you will need a pair of glasses that won't fall apart during difficult circumstances.
7. If you will wear eyeglasses for a long period, you want something that looks fashionable. Without the right style, people may think that your eyewear is not very high quality. You can find frame colors that will match most outfits and give any look some flair.
8. Choose glass frames over plastic or metal frames. It may be a little more expensive, but the difference in quality will be easy to see. Whenever you look for your eyeglasses, you should know that metal frames can become uncomfortable in certain weather conditions.
They can also cause a scratchy feeling behind your ears or nose. Glass frames won't have that problem.
9. Choose flexible materials for your eyeglasses frames. If they are made from the wrong material or style, you may have to deal with irritation from your eyes and the skin behind them.
This is a common problem with plastic or metal frames, but not with those made from flexible materials.
10. Know the difference between the different styles of eyeglasses frames. They will all do what you want them to do, but the shape and style may make a big difference in your overall appearance.
You might choose frameless eyeglasses just because they look great when you first put them on, but you might realize afterward that they don't fit your face. Also, frameless glasses are more challenging to clean than ones with plastic or metal frames.
Also Read: Top 8 Best Bluezero Computer Glasses starting Under 2000 INR
FAQs
Q: How to measure eyeglass frame size?
A: Please measure the outside width from earpiece to earpiece, bridge width, and temple length. Also, measure the bridge width. Look at your current glasses to help you determine what sizes you need.
Q: What is the best material for eyeglass frames?
A: You probably wonder what the best material is for the best eyeglass frames brand. One of the main materials we use in glasses production is metal. We also have a few different plastic frames for you to choose from.
Q: How to choose eyeglass frames?
A: It is not a matter of picking any old eyeglasses frame that catches your eye. You have to consider several factors, and when you do, you will find that it isn't as hard to choose a pair of eyeglasses frames you like.
Q: How to choose glasses frames online?
A: As you can see, finding the perfect pair of glasses frames involves more than just choosing any pair that fits your price range. To find the right glasses, you should consider the shape of your face and how each frame will look on you. If money were no object, there wouldn't be any question about what glasses to buy.
Conclusion
Deciding what frames to buy for your face is more about determining what looks best with the shape of your face. Although some faces can be hard to fit, many options work for different people. Just as there are many eyeglasses styles and colors, so are many shapes and sizes. It's just a matter of finding the one that works best for you.
Eyeglasses frames can be more than just a frame to protect your eyes. Eyeglasses frames are an expression of who you are and what you like. So, choose the. Suitable eyeglasses that best suit your taste, style, and personality.