The 11 Best Wired Headphones for Everyone
Though we live in an era of Bluetooth headsets and wireless headphones, wired headphones are still the best option for anyone on the move. These headphones are generally built to be more durable, less likely to break, and don't require charging. 
They can also provide richer sound quality and an enhanced bass response that you'll appreciate if you like electronic music. Look no further if you're looking for a reliable headset to plug into your smartphone or mp3 player.
This guide is designed to give you a list of the best-wired headphones available. We've found the best models that meet our excellent sound quality, build quality and design, and durability.
Many other factors can improve the sound quality of a pair of wired headphones, like noise-canceling mics or dedicated headphone amplifiers, so this list isn't necessarily exhaustive but serves as a good starting point for finding some high-quality options at an affordable price.
---
How Did We Evaluate?
We applied our extensive headphone knowledge and experience to evaluate the best models available, taking sound quality, build quality, design, and durability into account.
First, we researched the leading contenders at various price points.
To give each model a fair chance of being selected as one of our recommendations, each headset had to conform to our criteria for excellence in both sound quality and build quality.
For example, to be considered in this review, we made sure that the model has exceptionally high-quality drivers that offer an optimal combination of soundstage and bass response.
We then compiled a list of the leading models in both the affordable and premium categories, taking into account the reviews written by both experts and audio enthusiasts to ensure we had comprehensive information at hand.
After this research phase was complete, we started our evaluation process, which included listening to each pair of headsets in a controlled environment. We tested them both while playing back music and connecting them to some of our gaming consoles to evaluate the sound quality while immersed in an action-filled climate.
We also looked closely at the build quality and design as these are essential factors that need to be considered when selecting any pair of the best wired headphones. For instance, some headsets come with velour padding that's both soft and breathable, which won't make your ears sweat. 
Some also have an inline mic or remote control to help you change the sound settings – something we highly value as we like to enjoy our music a little louder than others.
The effort involved in this comprehensive research and evaluation process gave us a good overview of what's out there and what models are worth considering.
---
What Did Our Participants Say?
Guest reviewer: Jason L.
Comment: "I use my wired headphones mostly while gaming. They're comfortable enough to wear for long periods without any issues. I didn't enjoy the mic control on the cord because I never had a use for it, and it was just a distraction that prevented me from focusing on the game. Overall, I enjoyed the sound quality, and the overall build quality is quite good. My only real complaint would be the lack of padding around my ears, but this isn't an issue you'll face with every pair. Some have much better padding than others."
Guest reviewer: Mike J.
Comment: "I've been using a pair of wired Turtle Beach X12 gaming headphones for a few years now and love them for the sound quality. The build quality is decent, but it does have some durability issues I noticed after about 6 months of use. I'm hoping to pick up another Turtle Beach X12 headset soon, and I'm sure that model will work great in this review."
Guest reviewer: John H.
Comment: "I only have a pair of low-end TurtleBeach headphones, so overall, my experience isn't huge with these, but I'll give my opinion on each aspect here. The headphones are well built, the cable is durable, and they work well with the console. The sound quality isn't that much better than my old headphones, and they're not noise-canceling, so I have to use my more premium Turtle Beach X12 headset when I want to blast some music. Most gaming headsets are designed for a specific console's game (like the Xbox 360), so these will only function with certain games. I returned these since I didn't need the extra Rs. 2,000-3,000 more from Turtle Beach."
Guest reviewer: Tyler P.
Comment: "I love this product because it's amazing and good for gamers who play competitive games. The sound quality is great, and the headphones have great bass. I play many online games on the PC, and when playing those, it helps a lot with sound checks to hear footsteps and other things easier. The price is a little steep, but if you're serious about PC gaming, you should look into this product."
Guest reviewer: Kenny K.
Comment: "I received this product from my uncle. It's a good pair of headphones overall. The sound quality is good, and the build quality seems pretty sturdy. They are not too heavy on your head like some other headphones I've used. The bass is pretty good for gaming, but listening to music can be a little overpowering. As far as comfort goes, they're pretty good in that area. I've had them for about a year now and have not noticed any degradation to the sound quality or the build quality."
Here are our top picks:
---
1. Sennheiser Professional Audio HD 280 PRO Wired Over Ear Headphones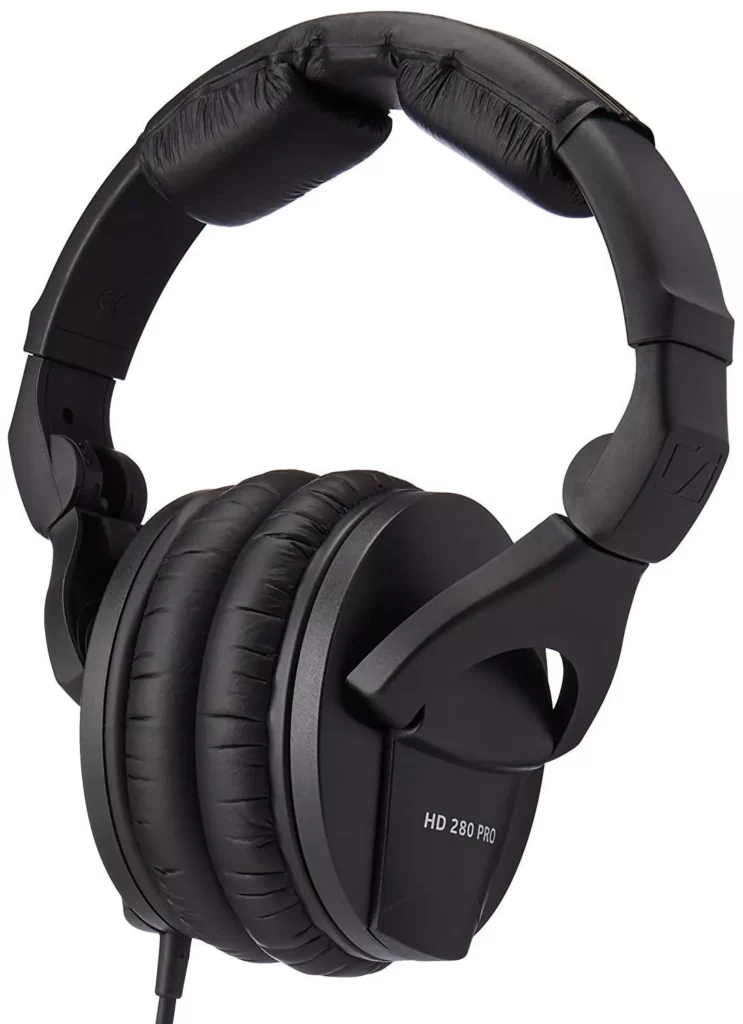 Sennheiser is a manufacturer that makes high-quality and reliable audio equipment. The HD 280 PRO's are no different. They are among the best wired headphones. 
They are designed for semi-pro and professional use, but anyone can buy them if they have a reasonable budget. The sound quality is impressive, but you may have to try the headphones out to know if they're right for you or not.
The headphones have an exciting and futuristic design. They have a metal body and a semi-circular earpiece. They have a U-shaped headband that gives them the comfort of larger pads and better sound insulation. The earpads are made of memory foam that is soft but also very durable.
The metal frame also helps to prevent slipping, even in wet environments. The best wired headphones work with any device with a standard 3.5mm jack, so you can use them with computers or mobile devices no matter which operating system you're using.
They can be plugged into any audio device with a 3.5 mm jack, including MP3 players and laptops.
The sound quality is noticeable but will be different from other headphones on our list. The bass is very prominent in the mix.
This could be a good thing or a bad thing. For some people, it could be the perfect amount of bass they're looking for, but for others, it may seem too overbearing or muddy the sound too much for them to enjoy their music.
They also have an intricate design that might bother some people but won't bother others. They're certainly not cheap, but they are one of the best options available.
Pros
High quality and long-lasting
Amazing sound quality
Durable and easy to transport
You can use them with any device that has a 3.5mm jack.
The ability to plug into most devices and systems
Con
Not the cheapest option on our list
2. boAt BassHeads 950v2 Wired Over Ear Headphones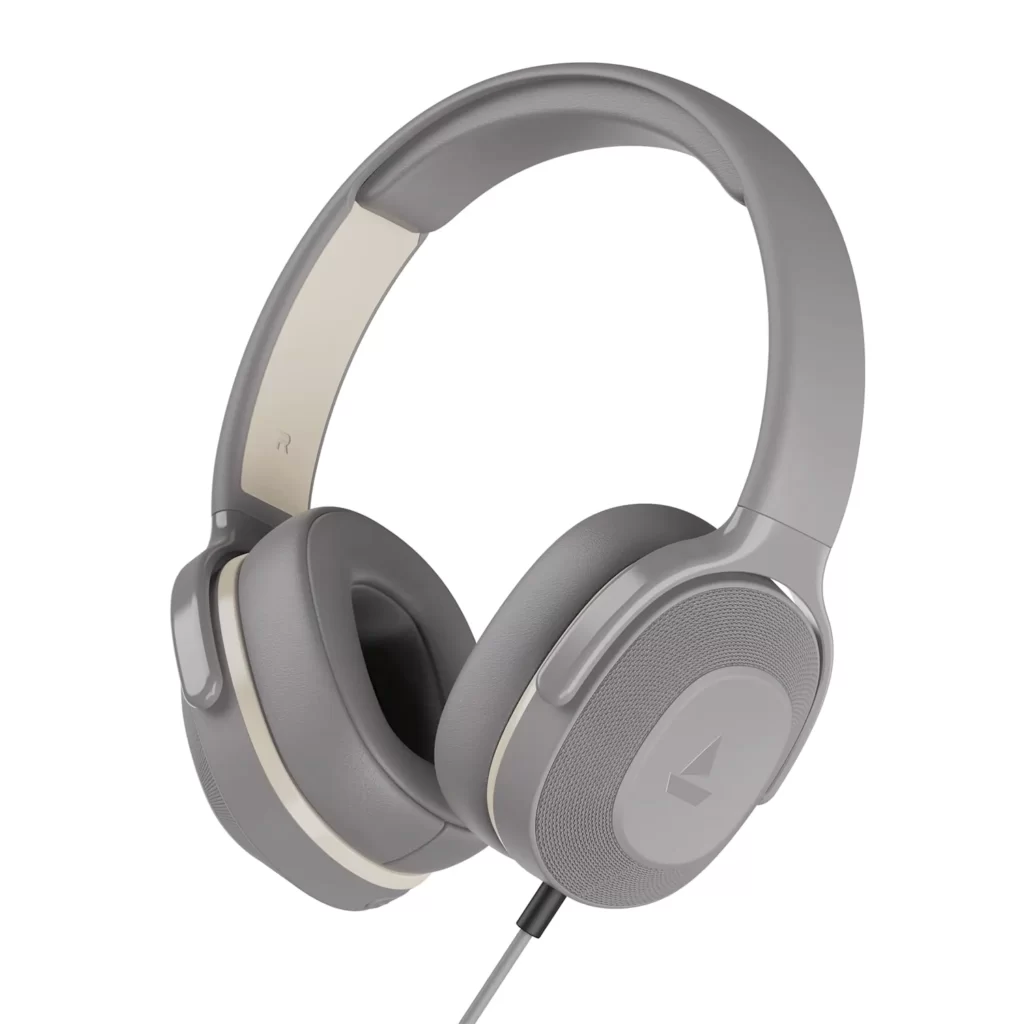 The boAt BassHeads 950v2 can easily compete with many high-end headphones in the market right now (and probably on equal footing). This is mainly because it features an Amazon's Choice design and a price of only around Rs. 1,000. The build quality is excellent, the ear pads are comfortable, and it delivers a full and rich sound.
The design isn't flashy but is still pleasing to look at and comes in some cool colors like orange, garlic, black, and even ice blue, among others. The cable is also tangle-free, which adds to its overall durability. The mic is also noise canceling, a feature that not all headphones at this price range will have.
The sound quality is most impressive here, and you'll be able to get a full sound with a gooey bass. The beats are apparent and are crisp, and easy to listen to. The only downside of the boAt Bassheads 950v2 may be that it doesn't have an adjustable headband, but most users will find it perfectly comfortable.
Being an Amazon's Choice product means that the best wired headphones with mic has been used by many other customers and has received positive reviews – one customer describes them as the "best headphones for playing games like Fortnite," which shows how versatile these headphones are. For the price and the quality, we can't recommend them enough.
Pros
Excellent build quality.
Well-balanced sound with powerful bass and clear trebles.
Comfortable over-ear design that doesn't hurt your ears.
Good noise-canceling mic.
Cons
Could use a slightly more durable cable.
Nothing really to complain about.
3. Boult Audio Bass Buds Q2 Lightweight Stereo Wired Over Ear Headphones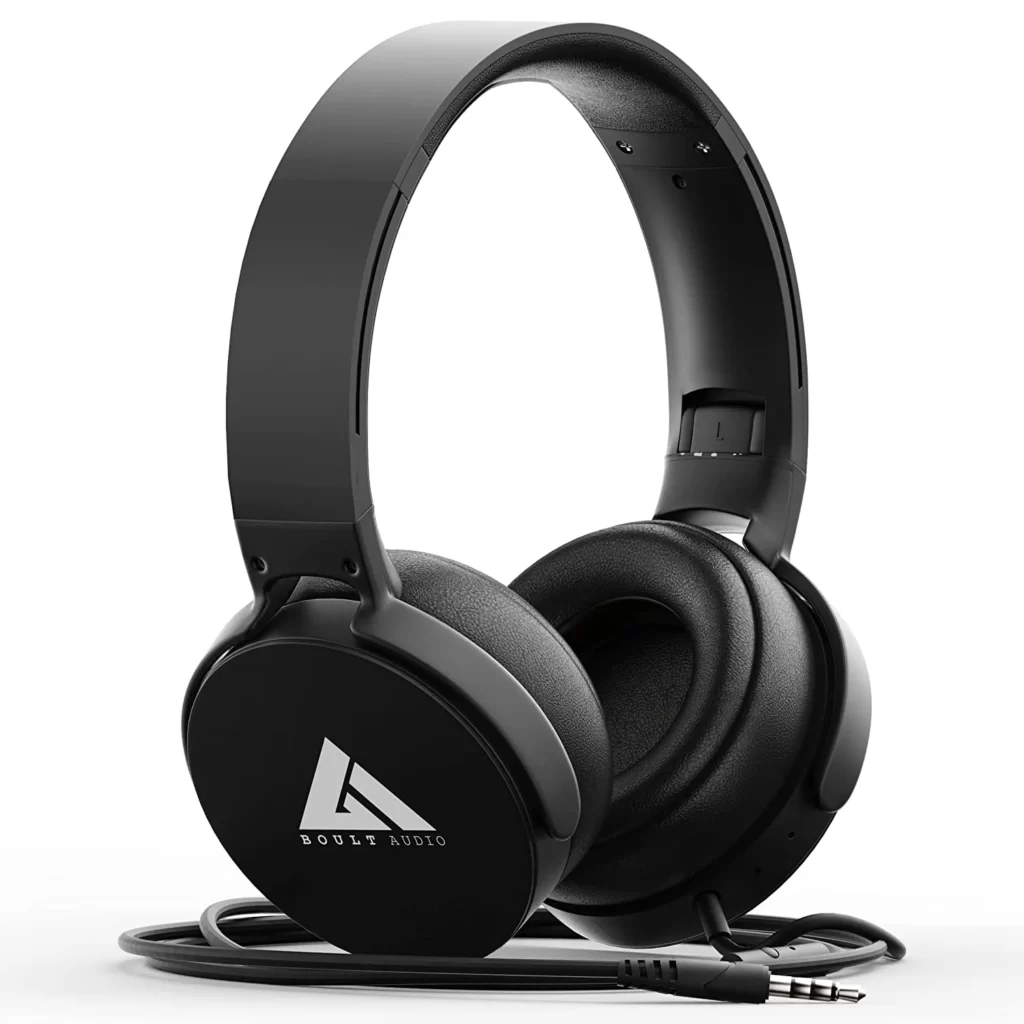 These headphones from Boult Audio are an excellent overall choice for most people looking for great sound quality, rich bass, and noise isolation who don't want to deal with the hassle of a Bluetooth connection.
They offer rich bass and crisp highs with a frequency response of 20Hz-20KHz on a pair of 45mm drivers with neodymium magnets for extra power. The ear cushions are soft leather to keep your ears comfortable even after long listening sessions. The cord is slightly shorter than most wired models at 3 feet, but this will only be an issue if you like to plug in your best wired headphones with mic at your desk while you're standing up. 
There's a 3.5mm auxiliary jack on the right side (so it can be used with other devices) and a micro USB port on the left side to connect them to your phone or use them while charging or making calls.
The sound quality is excellent. The bass will thump but won't overwhelm your music, the mids are clear and precise, and the highs will cut through even the highest treble notes without distortion.
They are not for bass heads if you want a lot of impact from your audio tracks, but they make good work of modern music without messing with its character too much. These are also not the kind of the best wired headphones under 1000 that you can use to monitor your recording while it's playing back.
They offer a louder than average volume, but they will distort at their maximum volume if you're listening to electronic music or hip-hop, precisely the type of music that benefits most from monitoring playback. Unfortunately, these best wired headphones under 1000 are not also noise-canceling as this would make them perfect for travel.
They're already an excellent value for the price. They would be especially suited to anyone who travels long distances by train or plane and needs comfortable headphones with excellent sound quality and rich bass.
Pros
Modern design
Rich bass and crisp highs
Rich, comfortable leather ear cushions
Good value for the price
3.5mm auxiliary jack and micro USB port on the right side to use with other devices or while charging or making calls.
Cons
3-foot cable is shorter than most
Not suitable for monitoring playback while recording because they distort at maximum volume
4. Logitech H111 Wired On Ear Headphones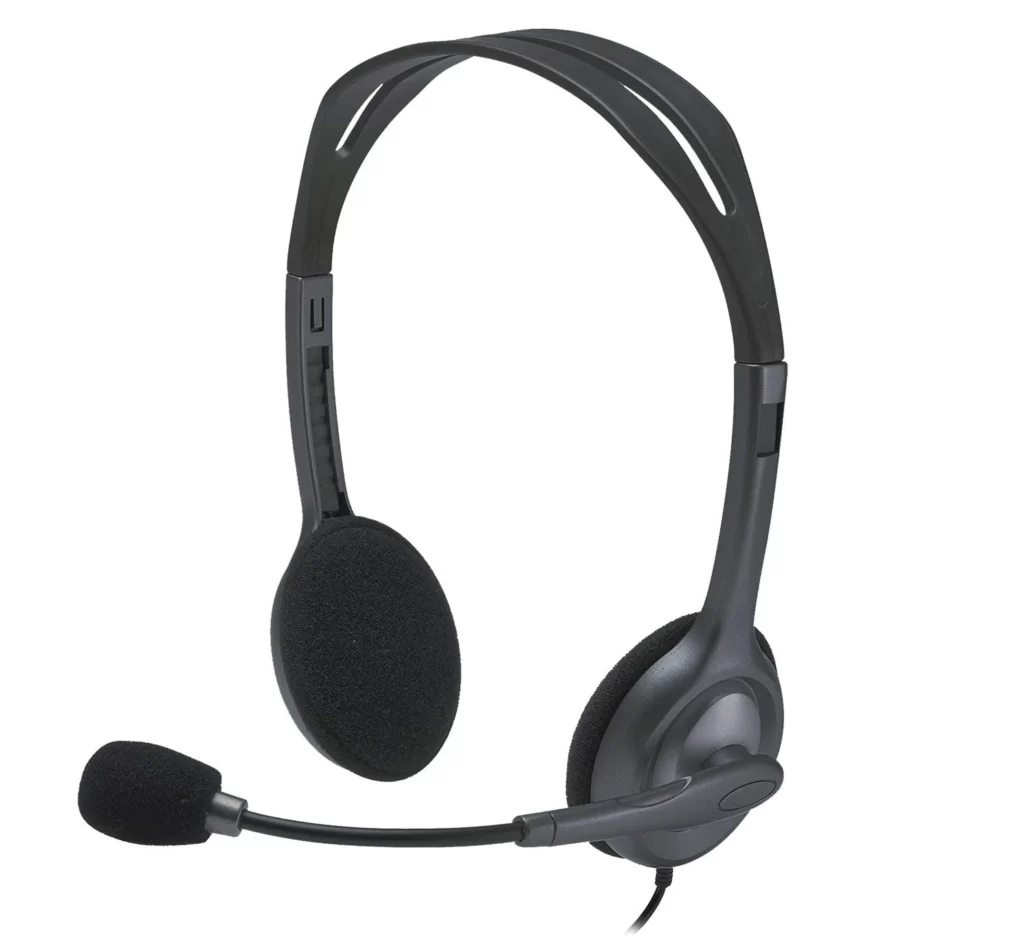 The Logitech H111 headphones are the best value for a wired headset on our list. They have a lot of features of more expensive models but at a very affordable price. The H111s feature soft cushioning, and they come with an adjustable and removable headband that makes them comfortable to wear even when you're out and about.
These best wired headphones with mic in india are built to last and come with a 2-year warranty, so you can rest assured that they'll keep working for years to come. The earcups swivel to share your music while traveling or commuting easily, but they close securely when you don't want others listening in on your listening session.
This headset is light, well built, and provides a huge comfort. Its sound quality is quite good for its price, but it still needs some work. It doesn't offer the best sound isolation, and its bass response is sub-par.
But this headset still has unique features like a 3.5mm auxiliary port and a 2-year warranty. In terms of sound quality, it delivers a full stereo experience with precise mids and decent treble but often missing bass.
It's mostly great for rock and metal music that lacks detail, which may be fine for the casual listener, but we think you should see other options on this list before buying this headset.
You can listen to your favorite music for up to 15 hours on a single charge with the H111 headphones. They also come with a built-in microphone to make hands-free calls on the go.
The H111s are compatible with any device with a 3.5mm audio jack, so they're perfect for smartphones and mp3 players. They provide excellent sound quality and loud volume at an affordable price, making them the best value on our list of the best wired headphones with mic in india you can buy today.
Pros
Built-In Microphone
Great value for the price
Long battery life and excellent sound quality
Comfortable to wear even for long periods
2-Year Warranty
Con
A little challenging to put in the headphones that can cause some discomfort at first.
5. Sony MDR-ZX110A Wired On Ear Headphone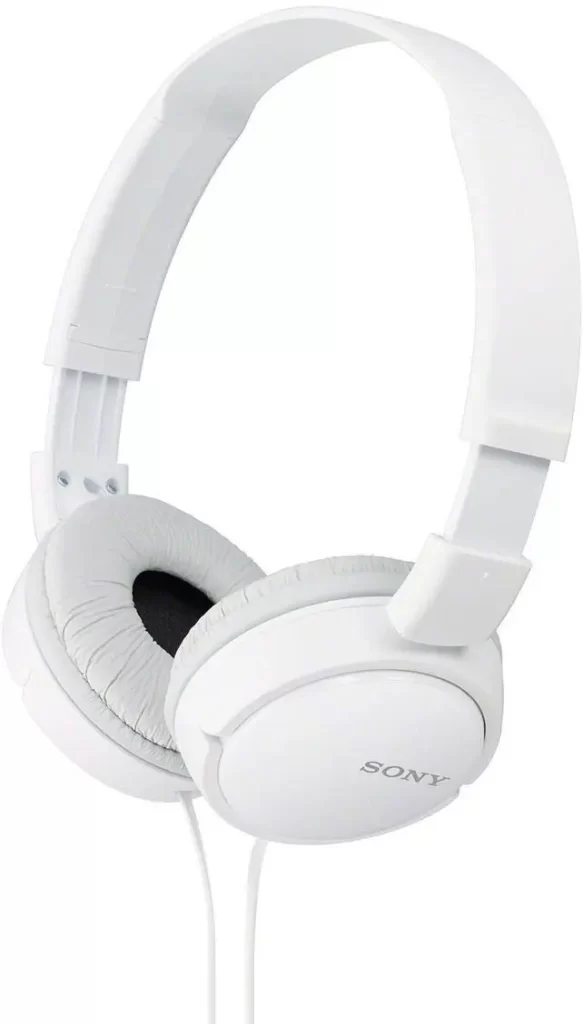 When you consider the price, you might think these are throwaway headphones, but that's not the case. The MDR-ZX110A is a well-made pair of headphones with comfortable ear pads and a lightweight frame.
They're designed to be affordable without sacrificing quality. Sound quality is quite good for the price, and they can certainly hold their own against more expensive models. Build quality is solid, which is good when you're spending Rs. 599 on a pair of the best wired gaming headphones.
These are so affordable because it doesn't have a microphone, though that may be a personal preference.
It is the all-rounder and the best choice for anyone looking for a solid pair of on-ear headphones without spending an arm and leg. The Sony MDR-ZX110A has the classic Sony look, with its simple matte finish and minimalist design.
The earcups can be folded in, making the best wired gaming headphones even more compact to bring with you. It also comes with a 1.2m long cord that is long enough to fit most people's needs and preferences (if you are not satisfied with it, a 6.5 ft extension cable is available).
With 40mm drivers, this headphone delivers a powerful sound performance with a rich bass response. It does a pretty good job of picking up most sounds, whether it be the subtle acoustic details of an orchestra or the loud, overpowering roar of explosions in action movies.
These best wired headphones in india passive noise barriers are not as good as those in other headsets. If you're in a very noisy environment and want to drown out background noise, you'll probably be disappointed with this model.
Despite its flaws, the Sony MDR-ZX110A is an excellent pair of headphones for an unbeatable price. They may not have all the bells and whistles as other models, but they can deliver a solid performance nevertheless.
The pairing process with your smartphone is a bit complicated and involves holding down the button for up to 3 minutes, but you can use them with other devices like computers or tablets. There's also no NFC pairing capability, making the phone-less pairing process even more tedious.
Look no further if you're looking for the best wired headphones in india that comes close to the MDR-ZX110A's sound quality but still offers excellent value. They're our top pick for the best wired headphones under Rs.600.
Pros
Good sound quality
Sturdy and durable design
Lightweight and comfortable fit
Affordable
Cons
A bit difficult to pair, especially with Android devices
Takes a bit long to pair
6. Sony MDR-ZX110AP Wired On-Ear Headphones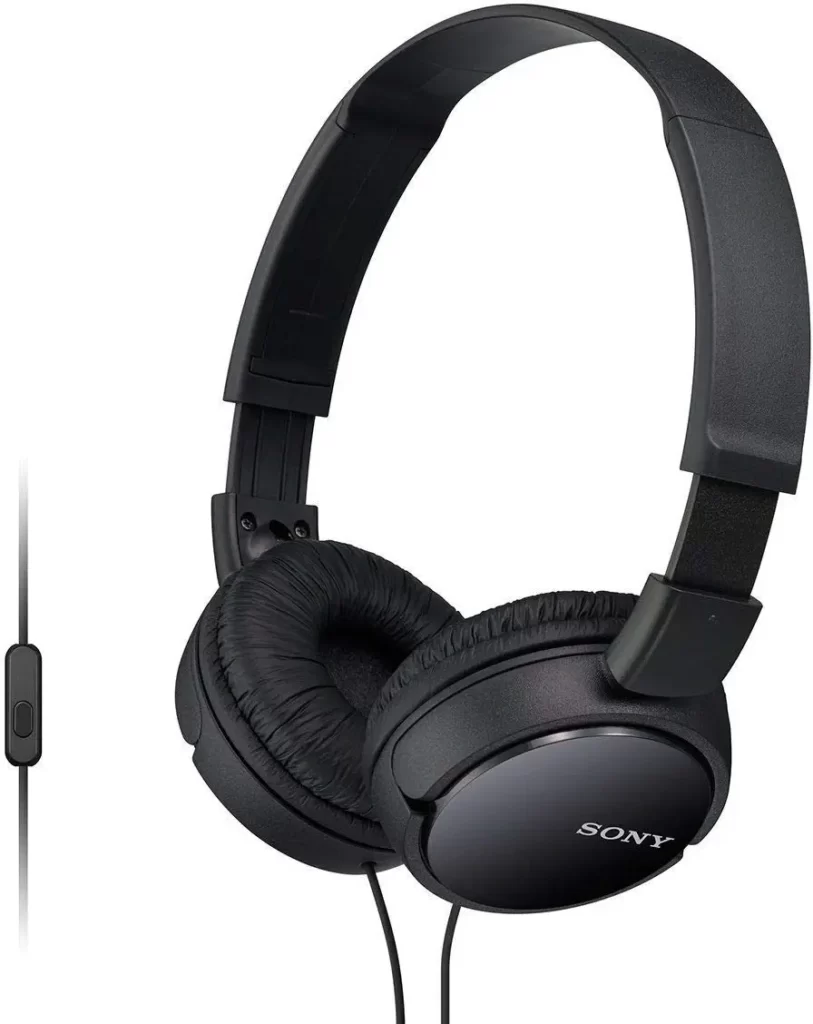 The Sony ZX110AP is an excellent choice for anyone looking to buy a well-performing pair of headphones at an affordable price. The open-back design and earcups that can rotate 180 degrees make this model a versatile choice for both general music listening and gaming.
For those curious, here's what Sony says about this model: "The ZX110AP headphone has been designed to provide you with the accuracy needed in all kinds of music sources, in a lightweight package that is comfortable even after long use.
Its circumaural design allows it to be used as a set of headphones without getting caught on your clothing or interfering with your vision during exercise or sports activities. It delivers deep, powerful bass and precise stereo sound, thanks to the 40mm neodymium driver units.
The ZX110AP's tangle-free flat cord design with a 1.2m length and gold-plated L-type stereo mini-plug makes it easy to connect to portable players while preventing tangles during storage. The rotating earcups with 90° swivel capability allow versatile use, whether you listen while standing or sitting."
There's no denying that this is an excellent pair of the best wired over ear headphones available in a very lightweight package. This model weighs less than 10 ounces making it perfect for use on the go or during workouts when excess weight can be a hindrance.
The headband and earpads of this model are made from synthetic leather, a material that has been used for decades and is known for its good tensile strength.
This combination of materials contributes to the comfort of these headphones, making them great for long listening periods. These headphones tighten to your head without feeling too constricting and never feel like they'll fall off during activities like running or jogging.
The rotating earcups also make it easy to get a comfortable fit as you can rotate them as much as you need to find the optimal position for maximum comfort. This makes these headphones extremely versatile concerning how they are used, which is another feature that contributes to their versatility and functionality.
The earpads are made from leather, very durable material with excellent sound-proofing capability. This makes it ideal for everyday use.
These headphones' large 40mm neodymium drivers have a wide frequency range, so they can adapt to and produce high frequencies with good clarity. This design also helps the model produce deep bass and improve the overall audio quality of music.
The neodymium driver units are also worth mentioning. They're known for their long lifespan, resilience to vibrations, and high sensitivity making these best wired over ear headphones an excellent choice if you're concerned about safety during workouts or other activities while wearing them.
The fact that the model's cable is tangle-free helps it last longer and improves its overall performance.
This design makes it easier to keep these headphones neat and tidy for long periods, making them an excellent choice for people who misplace things.
This model comes with a 1-year warranty from Sony, so you can get great value from them as they can be very durable if appropriately handled.
Pros
Very affordable
Well-made and designed to last
Lightweight and very comfortable
Neodymium driver units produce excellent sound quality
Tangle-free design improves performance and longevity
The earcups rotate 180°, which allows it to be used in a variety of scenarios
Con
Earcups don't swivel, so they may not be very comfortable if you like to move your head from side to side while wearing them.
7. pTron Soundster Arcade Over-Ear Wired Headphones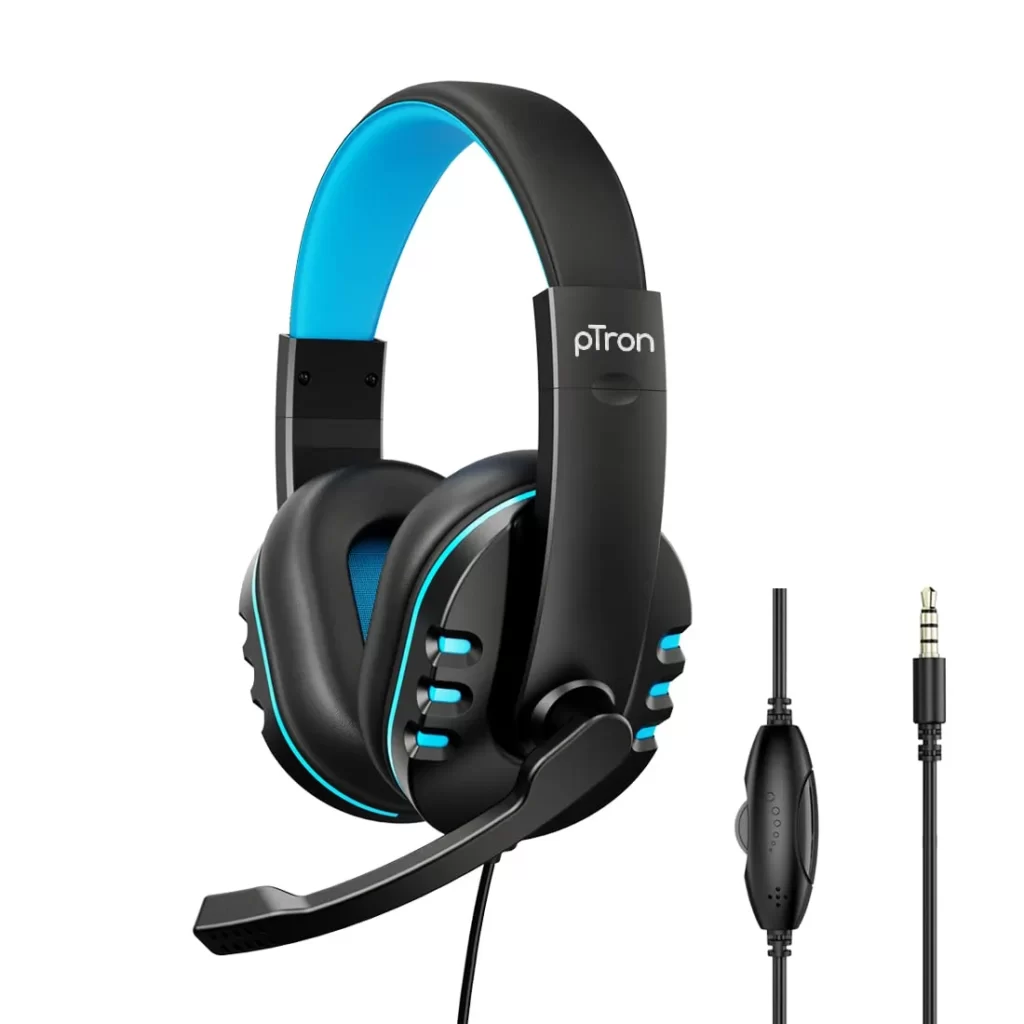 The Soundster Arcade is a versatile headset that accommodates a variety of music genres, including EDM, hip-hop, and even classical music. These headphones have an open-air design that provides audio clarity while allowing ambient sound to pass through.
They are unisex and can be worn with a y headphone cable attached at the end for either left or right-handed use. The clip that joins the headset to your shirt or cap is large enough to accommodate most head sizes; however, it is not magnetic, so you'll need to position it carefully if wearing hats or other headwear that may get in the way.
The bass is more than adequate and more accurate than most other models on the market. The complete frequency response is 20Hz – 20kHz, and the frequency range for this model is 90Hz – 18kHz.
The headband is covered in a soft leather material that makes it highly comfortable to wear for long periods; however, you should be careful not to use these while jogging or doing other sports where you may sweat heavily as there is no rubber padding to protect against moisture. The headset also comes with a microphone that will enhance your overall sound quality when using a corded headset.
This product will only work properly with 3.5mm cables, which will not work directly with your smartphone. It would be best to buy a converter to plug this into your Apple iPhone or iPad. The product is compatible with Android devices, however.
The ear cups and headbands are made from thick plastic, and the clamping force is strong enough for you to wear these for hours without feeling discomfort. They are also easy to adjust to accommodate larger heads.
There were some concerns about the volume wheel, but another customer posted that he was able to find a middle ground with this device as well as a couple of other audio settings that allowed him to use his iPhone without any concerns about sound quality or distortion.
You might also be interested in: A review of pTron Soundster Arcade Over-Ear Wired Headphones, Ergonomic Headset with Mic, Adjustable Boom Mic & in-line Volume Control Wheel, Universal 3.5mm Aux & 1.3 Meter Long Tangle-Free Cable (Red & Black)
These designed but attractive headphones feature a steel headband and aluminum alloy casing for extra durability. Inside the ear cups are bass drivers for excellent sound quality with a frequency range of 20Hz to 20kHz.
The surrounding ear pads are made from foam for comfort, and the headphones also include an adjustable boom mic for use with smartphones and computers or to hear your friends better when gaming.
The detachable cable features an in-line mic and a volume control wheel for easy use when listening to music or podcasts. The headphones also have an integrated microphone and a 1.3m long cable.
These headphones' ergonomic design is a remarkable feature, which means they are more comfortable and less likely to fall off when exercising or dancing. Even better is that they come at a very affordable price, making them great value for money.
It's a little surprising that TechPinas has no mention of the included microphone, but these are still some good headphones for gaming or general audio use.
The A/C adaptor is a nice touch, and the instructions are easy to understand and follow. You will also need to buy 3.5mm cables and a 3.5mm headphone adapter to use these headphones with your iPhone or Android device if you want to enjoy your music library on the go.
Pros
Compact, lightweight design
Comfortable, lightweight, durable headset
Excellent sound quality; a variety of frequency ranges
Fairly affordable
Con
It May not fit larger heads.
Also Read: Our 5 Favorite Gaming Headphone for Every System
8. OneOdio Pro-10 Over Ear Headphone
The OneOdio Pro-10 headphones offer many features that you don't see in very many other wired headphones for under Rs. 2,500. Since it's built with a 50mm driver, you will get rich bass and clear highs that aren't common in sub-models.
The folding design with rotating earcups means it's easy to take along with you anywhere, making this ideal for anyone who wants to have quality headphones.
The OneOdio Pro-10 also comes with a SharePort output that you can use for connecting to two different devices at once. This allows you to share your music with friends or use it as a recording interface, making it great for podcasting, gaming, and other applications.
The overall design is beautiful, with a premium black finish and red accents to stand out. These headphones also include built-in controls to adjust the volume or switch tracks when necessary.
The design of these headphones is fantastic. They're made of high-quality vinyl cloth with leather earmuffs and a headband. The ear cushions are made of memory foam and covered with leather for extra comfort and durability, essential for headphones that may be used for long periods during recording or listening to music.
The headphones are slightly padded, so they're also quite comfortable, even for extended periods. They're some of the most excellent headphones you'll find on the market at this price point and will make a great addition to any studio or home rig.
One of these headphones' greatest advantages is their excellent build quality and audio quality. The earcups are covered with vinyl cloth and have padding made from memory foam which makes wearing them for long periods more comfortable than many other headphones.
The leather headband is more durable than typical leather headbands, made from hardwood and covered in vinyl.
The ear cushions are also made from premium materials, including memory foam, which should last longer than typical memory foam ear cushions. Another great feature of these headphones is the noise-canceling mic which is great for gaming and voice-over work.
For those interested in listening to music or watching movies, these are some of the best headphones for that purpose. They have 50mm drivers, which provide a detailed, crisp sound and can produce an impressive bass for a pair of over-ear headphones.
The folding design also makes them more portable than many other headsets on the market, so they're a good option if you plan to use them on the go.
There are, however, a couple of downsides to the OneOdio Pro-10. Firstly their sound leakage can be quite loud. Secondly, one of the earcups is not detachable, which means that if you want to remove it or change something about it (like a different size earpad), you're going to have a hard time doing so.
Despite these nitpicks, we still think this is one of the best options for under Rs. 2,500 and ideal for those who want quality headphones with no wires hanging around.
Pros
High-quality build and design
Very loud sound leakage
Comes with a SharePort output for audio sharing and recording
Supports wireless audio sharing for connecting to two devices at once for DJ-style mixing or podcasting
Con
One of the earcups is not detachable.
9. Maono Au-Mh501 Wired Over Ear Headphones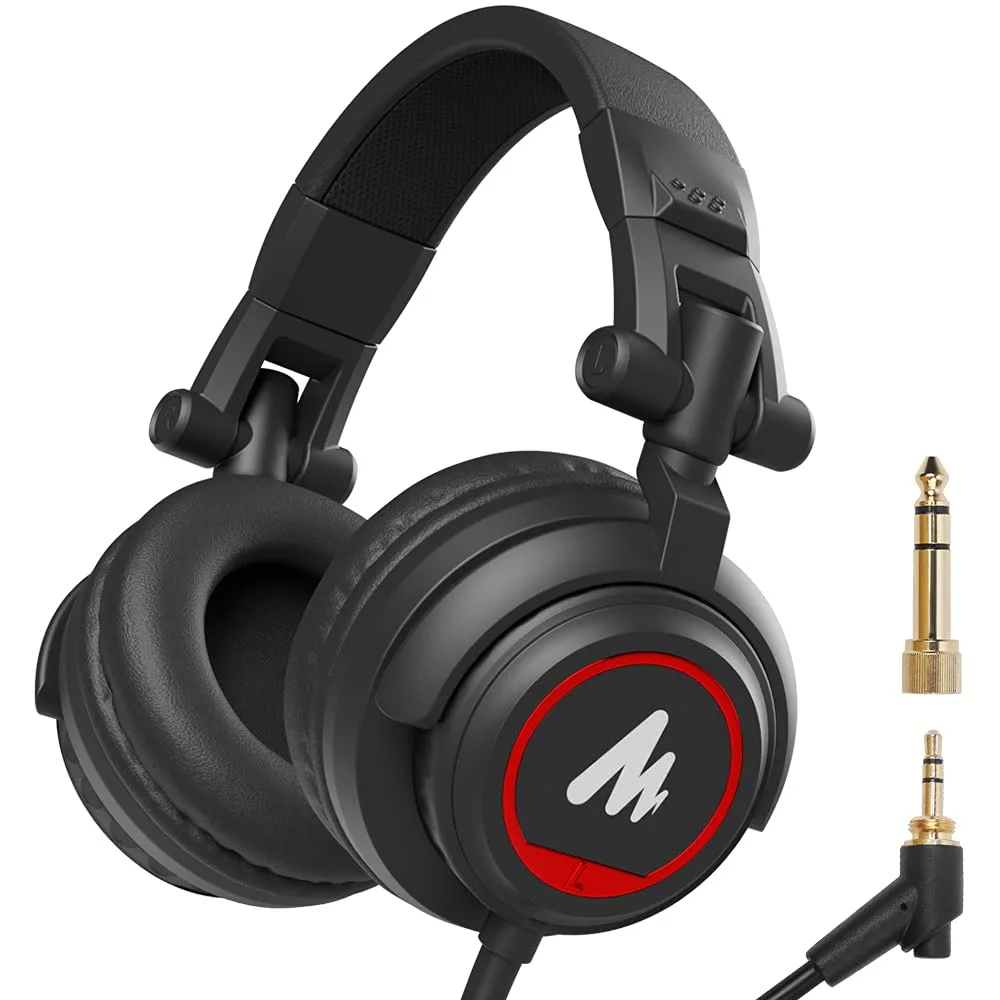 The MAONO Au-Mh501 headphones are not fancy headphones. They are not cool, stylish, and certainly not meant to impress that hot thing in your office with the awesome rack. However, if you're into rich bass reproduction and simple, elegant design, these headphones may be the right fit for you.
The headphones come in an excellent, clean package. The headphones are housed in a plastic case which also serves as a good buffer for the headphones. The headphones' cable is braided, and it feels very sturdy and capable of handling some rough-and-tumble treatment.
The Maono Au-Mh501 headphones are an excellent choice for anyone looking to get a higher quality of sound than the standard headphone or those who don't want to deal with the hassle of Bluetooth pairing.
These headphones have a lightweight design and a wide-range frequency response to satisfy any audiophile.
They have large 40mm drivers that can produce very high sound pressure levels. The ear cups are fully padded and will make your listening experience extremely comfortable.
The cord is 1.2 meters long, which should be more than enough length for most people's use. The cord ends with a 3.5mm gold plated plug; if you're into audio quality, this plug is superior to standard plastic plugs that most headphones use.
The headphones are very simple in design and look; they almost look like you could find them on display at an Apple store. The headphones are rather large. They are not very lightweight, but they are also not that heavy. With the headphones in your ears, the cable does not reach out to the back of your neck.
The Maono Au-Mh501 is a bestselling over-the-head headphone made to endure repeated daily use while offering excellent sound quality and comfort.
This pair of headphones is constructed with a rugged yet lightweight metal body and comes equipped with a USB charging cable, an airplane adapter, and an additional cable with an in-line mic for making calls.
These headphones feature an in-line microphone for handsfree phone calls and have 2.4GHz wireless connectivity for accessing your smartphone or another audio source without any wires.
These are the type of headphones that are comfortable enough to wear for several hours on end without getting tired or itchy. These are also the headphones you'll wear when running, jogging, or working out at the gym.
This headset is compatible with any smartphone, mp3 player, laptop, or another device that plays audio through its headphone jack. The Maono AU-MH501 features an in-line microphone compatible with most mobile phones and audio sources.
It comes with a 3.5mm audio cable for connecting directly to an audio source without using Bluetooth; the cable has an in-line microphone for handsfree calling and remote control buttons for answering calls and controlling your audio source during playback – these are very handy if you use your headphones to make calls while on the road.
The headphones provide excellent sound quality. They have a rich bass response and excellent soundstage, which is essential if you're using them daily. While they don't offer the best treble response, they still provide more than enough clarity and detail to please almost any listener.
What I appreciated about these headphones is how comfortable they are to use. I had used other headphones that had caused me pain when I wore them for long periods, and the MAONO Au-Mh501 headphones didn't do that to me.
Pros
Excellent sound quality
Rich bass response, excellent soundstage
Simple, elegant design that any user can appreciate
Very comfortable to use for long periods
Con
Not very lightweight
Nice looking but not fancy enough for everyone to notice you are wearing them
10. ZEBRONICS Zeb-200HM Wired in Ear Headphone
The Zeb-200HM is a 30-dollar wired headphone that brings together a few different features essential to making a great pair of headphones.
At the top of the list is the excellent sound quality produced by the 20mm neodymium drivers, housed in carefully crafted, comfortable ear cups made from soft-touch silicone. The ear cups are also designed to be easily removed for cleaning or if you want to listen with your favorite pair of in-ear headphones.
The ear cups have an excellent sounding cable and tangle-resistant design for easy storage when not in use, and an inline microphone is included for use with smartphones, tablets, and other devices.
Zebronics ZEB-200HM wired in-ear headphone with a mic is an excellent option since it offers both quality and affordability. It may not be as expensive as other headphones on the market, but it still provides many features and sound quality that you could expect from high-end headphones.
This type of headphone plugs into your computer's 3.5 mm audio jack, enabling you to listen to music from your favorite music players like your smartphone or mp3 player. This type of headphone headphones is very comfortable since they're made out of soft silicone so that your ears won't get sore after continuous listening.
The design of this headphone is very appealing since it has a black matte finish that does not make the headphone look cheap at all. The headband and ear cups are made out of aluminum, which makes the headset look so premium even though it's still wired.
You can have fun with the ZEB-200HM because there's no cable attached to it, so basically, you'll be free from tangles and knots in your headphones. The headphones are also very comfortable to wear, and you can wear them for hours without having a strain on your ears.
This best in-ear headphone has a built-in microphone so that you can freely communicate with others while on a call or while gaming with your friends. You can have fun with this headset because of the deep bass and clear sound quality.
The audio cable of the headphone is made up of high-quality material, making it more durable than others.
The ZEBRONICS ZEB-200HM wired in-ear headphone with mic is an option for people who want affordable yet high quality and durable enough to last for several years.
This model has an excellent overall sound quality with deep bass response, extended treble, and crisp, clear highs. The frequency response is accurate and neutral so that you can enjoy your favorite music with great clarity.
The ZEBRONICS Zeb-200HM retails for around Rs. 399 dollars and has a 3.5mm audio jack that acts as the headphone output that gives you a stable connection to the device you're listening to. While this may not be the best sounding headphone out there, it is one of the most affordable and easy-to-use options.
Pros
Good audio quality
The soft-cup design provides comfort and excellent sound isolation
Inline microphone for hands-free operation with smartphones
Removable ear cups make cleaning them a breeze.
Con
The headband could be made more comfortable with a better design.
11. Sennheiser HD 206 507364 Wired Over Ear Headphones
The impressive audio quality of the HD 206 has been well-documented by numerous publications, including The Verge and Wired, so we won't go over it again except to say that there's no better-sounding pair of headphones at this price. They sound equally good with amplified music players, in-flight audio, or even your computer with decent output. The HD 206 headphones are durable, so you won't have to worry about them breaking easily.
They're not the best-looking headphones, but that doesn't bother us too much because bassheads will appreciate their ability to provide deep thumping bass. And if you want a headset that's super lightweight and comfortable, these are it.
The Sennheiser HD 206 is a pair of headphones made to ensure the desired quality of sound. This headset offers a powerful combination of both convenience and style. Because of its 1.2 meters cable length, you can easily choose where to put it around your headphones or your neck.
You don't need to worry about wireless connection because this product has no wireless function. But you can still enjoy the crystal clear sound and powerful bass with this wired headset with a 20-30 thousand hertz frequency response rate and 32-3800 Hz high-frequency rate.
The Sennheiser HD 206 is a fantastic pair of headphones that combine excellent sound quality, durability, and comfort at the right price. A tried and tested model, this wired alternative to the HD 205 is equally good at offering a faithful sound reproduction with its wide frequency range, rich bass response, and clear dialogue.
One of the best features of wired headphones is that they don't require charging and can get hours of listening out of every charge.
The built-in microphone makes it easy to take calls using your smartphone or other devices without buying an additional handset or headset-specific microphone. The headphones are foldable, allowing you to carry them around easily, and they come with a two-year warranty against manufacturer defects. The headphones come in four colors, black, red, and silver.
If you're looking for a pair of audiophile-quality over-ear headphones built to last a long time and can take a beating, these are the ones for you. Sennheiser is known for making some of the best headphones in its price range, and these are no exception.
Many professional audio reviewers have reviewed the HD 206 headphones, and everyone has remarked on how accurate they are at reproducing sound.
Many people with more expensive headphones on their wish lists have been impressed with the sound quality of these, which comes from its well-balanced frequency response across the spectrum and its large drivers.
These headphones can begin to wear out after a few years of use, but Sennheiser states that the earcups can be replaced for about Rs. 200.
This is a good option if you want to purchase a new pair of headphones every couple of years, as long as you don't plan on taking your headphones on frequent long trips with you. You could also purchase replacement ear cups separately and use the same pair of headphones for another five to ten years.
The closed-back design is a bit leaky, so they're not ideal for noisy environments, but they're great at drowning out background noise. The HD 206 model also comes in white if you prefer that color over the standard black.
Pros
Excellent bass response
Durable build quality
Lightweight and comfortable to wear for hours
Affordable price tag (£30-£40 in Europe)
Con
FAQs
Q: Which headphone is best wired or wireless?
A: It depends on what you're looking to do. For gaming and movies, you'll want a wireless pair like the Sony WH-1000XM3 or Sennheiser Game One Wireless. However, if you play music and don't intend to take your headphones anywhere, or put them through rigorous use (e.g., jogging, lifting weights, etc.), then go with a wired model
Q: Which headphone is best wired or wireless?
A: The wired option has one major advantage over wireless headphones: durability. Wireless headphones are typically made of plastic or aluminum and can easily be damaged if they aren't protected by a case or a bag. Simply put: wireless headphones break easily.
Q: Which headphones are best wired or wireless?
A: The wired option has one major advantage over wireless headphones: durability. Wireless headphones are typically made of plastic or aluminum and can easily be damaged if they aren't protected by a case or a bag. Simply put: wireless headphones break easily.
Q: Which model is better wired or wireless?
A: This really depends on what you're looking for from your headset. If you're after a true high-fidelity listening experience that you can use for professional recording, then the best choice will be another pair of wired headphones like our top picks.
Q: Which headphone is best wired?
A: In terms of sound quality, the best-wired headphones are those that offer a flat response (i.e. less emphasis on bass or treble) and well-defined highs, mids, and lows to hear every note and sound that's playing. We'll go more in-depth about the best-wired headphones a little later in the guide.
Q: Which headphone is best wired under 500?
A: This depends on the quality of sound you're looking for. There are a lot of models out there that will deliver the best sound at much lower prices. If you want to get the most bang for your buck, check out our list to see a few options from well-known manufacturers. If you're looking to spend less than Rs. 2,000 on a pair of wired headphones, look no further than these top picks.
Conclusion
If you're looking for quality wired headphones to plug into your smartphone, mp3 player, or any other audio device, this guide should help you find the right product. We hope this list will help you find the best headset to meet your specific needs and budget. Be sure to let us know what headphones you like and why in the comment section below.  Also, feel free to share this guide with your friends.
---
Recommendations are independently chosen by Bestbuyhacks's editors.
We independently research, test, review, and recommend the best products—learn more about our process. If you buy something through our links, we may earn a commission.
Disclosure