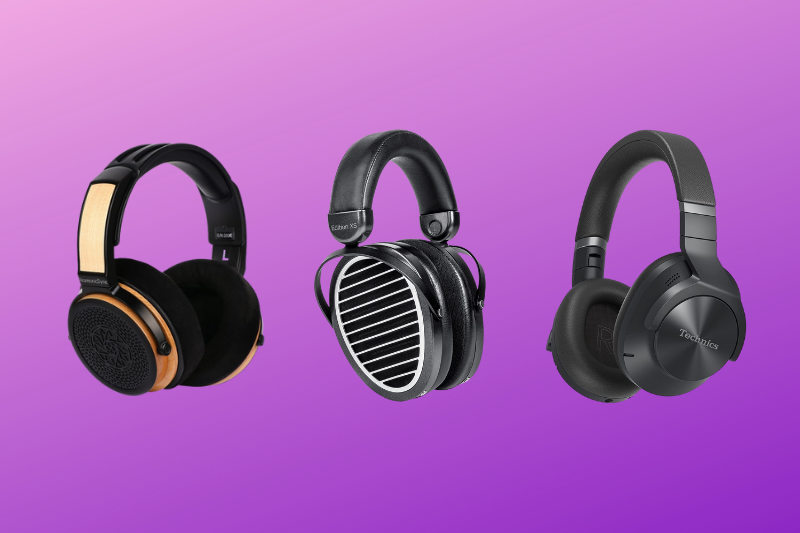 Ultimate Headphone Buying Guide 2022
Welcome to Ultimate Headphone Buying Guide 2022, where you'll find everything you need to know about the most effective headphones on the market. Whether your goal is a DJ set in a warehouse rave or playing your favorite tunes in bed as you drift off to sleep, you need to get the perfect pair of headphones for what you want.
This article outlines what you should do when buying headphones, including options such as noise-canceling or wireless, the size of the headphones you need, and how to use your headphones properly.
In addition to learning about headphones, this amazon headphone buying guide will also tell you several tips on how to get them for a fair price. Headphones are relatively inexpensive compared to other products, but there are still plenty of tricks on how to get them for less. This 'how to buy headphones guide' will help you save money within this specialized market.
Tips For Choosing The Best Headphones For You
Style
Different people have different styles, so it's important to know what you want when buying headphones. There are many different styles of headphones, including over-the-ear, on-the-ear, in-the-ear, and earbuds.
Each has its benefits and drawbacks in terms of sound quality and comfort. Knowing what style is best for you will help you save the most money and get the best set to fit your needs.
Also Read: 20+ Work From Home Headphones To Improve Productivity & For Netflix After!
Size
The size of your headphones can also make a huge difference in the way they feel while you're wearing them. You may remember when the recommended headphones were too large and hurt your head after several hours of listening to tunes.
That's why it's essential not to go for the larger, bulkier headphones if your ears find them uncomfortable after a few hours. Most manufacturers now have smaller options that fit more comfortably without bulk.
Noise-Canceling
Many people buy headphones to listen to music without any background noise, so you should consider the noise-canceling options when making a purchase through this studio headphones buying guide.
Some headphones have an active noise-canceling feature that uses one microphone in each ear cup to pick up external sounds and then plays the opposite sound wave from the outside out of your ear directly into your ear canal. The result is a quieter listening experience with less background static.
If there's too much ambient noise for the active noise cancellation technology to filter out, you can use passive noise-cancellation features.
Passive cancellation in this studio headphones buying guide uses the space between the ear cups to filter out sounds, meaning it will only work if there is enough room inside them. This passive feature can be used with or without the active sound cancellation technology.
Budget
Every person has a different budget for what they want to spend on headphones. If you're looking for just a few to use with your computer or smartphone, you can get a nice pair that may only run you 1,000.
But if you're looking for professional headphones that will allow you to produce musical masterpieces, expect to spend around 5,000 and up. The amount spent determines the quality of sound and the overall experience of using your headphones. 
Also Read: Our Favorite Wireless Headphones Are available reasonable price
Frequency Response
Frequency response refers to the range of sounds that a pair of headphones can play. If you're a person who likes to listen to music with lots of basses, you'll need headphones with lower frequency responses.
On the other hand, if all you want is to hear the high-pitched sounds of your favorite artists, you'll need headphones with higher frequency responses.
Consult the manufacturer or do some research online to see what frequency range is best for your needs and what pricing fits your budget.
Comfort
It's essential to at least try on any set of headphones before buying them, especially if they're over-the-ear or in-ear models. To test their comfort, lay down on your back and see if they're comfortable. If they're not, try different sizes or look at other models.
If you buy and wear your headphones for hours at a time, you need to consider things like the material the ear pads are made from, the headband's size, and even the weight of the headphones.
If you have a pair of headphones with these features and don't experience any discomfort after several hours, you've hit gold with your purchase with the help of this bluetooth headphones buying guide.
Portability
Headphones are portable by nature, but some feature more portability than others. Professional DJs, for example, will require headphones so that they can move easily while they're on the road.
Open-back headphones allow you to hear outside sounds, letting others hear what you're listening to. If that's an undue problem for you, look for closed-back options instead.
Wireless models are convenient over long distances and can save time when changing songs or adjusting volume. Some wireless models have a battery life of up to 30 hours or more, so you always have plenty of time without interruptions.
Sonic Signature
The sonic signature refers to the sound a pair of headphones produce as they play music. This is different from frequency response because it includes other features like bass and treble tones.
From this bluetooth headphones buying guide, a wide frequency response means that all sounds are audible, but a narrow one means that only some of the sounds are played, and others are cut out. Wide frequency response is perfect for every style of music, but a narrow one is better for specific styles.
Features
Some headphones offer features that will make them easier to use daily. For example, some models have controls built into the ear cup or wire, so you don't have to go through extra movements to change songs or adjust the volume.
This can be especially useful if you're using your headphones while exercising and need easy access to these controls without stopping what you're doing.
Also Read: Top 7 Best Headphones For Bass You Can Buy
Noise-Isolation
Noise isolation refers to how well your headphones can fully block out ambient noise to hear only what's coming through the ear cups. If you're looking for headphones that can cut out the noise of your noisy office, then look for noise-isolating features.
Warranty
From the best headphones buying guide, some headphones manufacturers offer a warranty that you can use if your headphones break after a certain time. 
It's a bonus to know that you have such a benefit, but it's also essential to understand what the warranty covers and how much time you have before it expires.
Open-Back vs. Closed-Back
Open-back models allow listeners to hear outside noises, but they produce a fuller sound quality than their closed-back counterparts do. Closed-back headphones don't let any external sound in or out, so listeners can enjoy music without distractions from their surroundings. If you're looking for more portable headphones, choose the closed-back type.
Ease of Use
Some headphones are easier to use than others. If you're not familiar with your headphones' controls and how to work them, then pick out a pair with minimal buttons or easy-to-read labels, so it's easier to determine which button does what without looking at the manual.
Compatibility
If the headphones you get work with anything else, then they're more versatile and useful than headphones that you can't use with anything else other than your computer or smartphone.
Your phone may be different from any other device, but if your phone is compatible with the headphones you bought, it's twice as valuable as a pair you can only use on your phone.
If you have a music player that you plan on using with your headphones, then make sure they're compatible with its features.
Also Read: The 11 Best Wireless Headphones for Everyone
Durability
If the headphones you buy are made of high-quality materials, they're likely to last a long time and save you money in the long run by not having to purchase another pair anytime soon.
You may be able to find some durable headphones for less than 7,000, but if you want something that's built for everyday use, look for models starting at around 5,000 or more.
Cancellation
Most headphones come with a one-year warranty, but a few offer additional protection. You'll have to check your headphones' warranty to see if they provide any protection.
Even if the manufacturer doesn't provide protection, you can still ask them, and they may be willing to give you an extra year's warranty on your purchase with the help of the best headphones buying guide.
FAQs
Q: How to buy headphones guide?
A: Firstly, learn about the many different types of headphones available. Then figure out what you'll be using them for. Are you going to be working out? Are you planning to use your headphones when DJ-ing? Figure out your goal and find the type of headphones that will help you achieve it.
Q: how to choose in ear headphones buying guide?
A: Always consider your purpose and requirements, including the type of headphone you want and your budget.
Conclusion
Now that you know all about what makes the best headphones, you should be able to find the perfect pair for you. You want a set of headphones for a business presentation or to listen to your favorite tunes on your ride home. 
The right pair of cans will make all the difference in your listening experience, so use this amazon headphone buying guide when buying them.
Headphones are incredibly common in today's world. Most people wear them when they are walking, exercising, or commuting because they want something to listen to other than their surroundings.