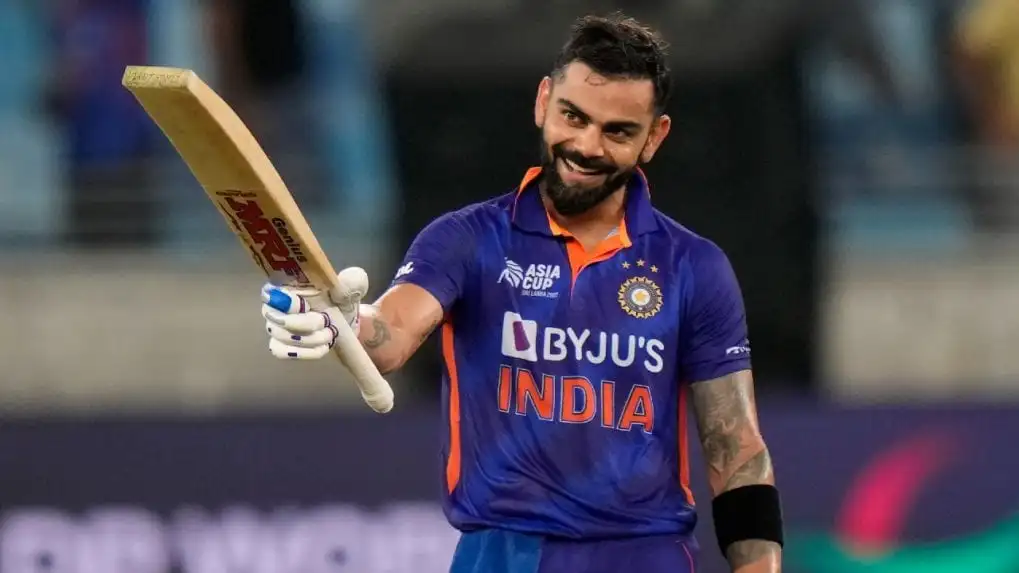 India vs. Afghanistan Asia Cup 2022: Virat Kohli Scores His Maiden T20I Century
Virat Kohli smashes his T20I maiden hundred against Afghanistan in the 2022 Asian Cup match. This is a masterclass big-hit in the Super 4 Indian match that took place against Afghanistan. This is 71 international hundred of the former captain. This becomes one of the many scripted records of Virat Kohli.
India vs. Afghanistan Match scorecard
India- 212/2 (20.0)
Afghanistan– 111/8 (20.0)
India won against Afghanistan by 101 runs.
The top batsmen and bowlers of this match are:
India
Virat Kohli – 122 (61)- Batsman
Bhuvneshwar Kumar – 5/4 (4)- Bowler
Afghanistan
Ibrahim Zadran- 64 (59)- Batsman
Fareed Ahmad – 2/57 (4)- Bowler
Big Hit of Virat Kohli in the Super 4 Asia Cup 2022
Virat Kohli has scored his 71 international hundred by finishing with 122 not out from 61 balls against Afghanistan. The long wait of 1020 days came to end with this highest score for India scored individually in T20is by Virat Kohli.
The match that took place in Dubai was a Super 4 Asia Cup 2022 match played against Afghanistan. He scored an international hundred post 3 years of play. He was surprised with the 71 international hundred where he was least expecting a century.
His earlier international hundred was against Bangladesh in a pink-ball test that took place in Kolkata on 23rd November 2019.
Super 4 Updates of Asia cup 2022
Kohli has equaled Ricky Ponting with this international hundred on the most centuries list in international cricket. Sachin Tendulkar tops the elite list with 3-figure 100 scores and Kohli bagged 71 hundred with this one.
The hierarchy goes:
100 in 664 matches – Sachin Tendulkar
71 in 560 matches – Ricky Ponting
71 in 468 matches – Kohli
Some of his top records are as follows:
In all forms, Kohli has become the fourth Indian to achieve a century (after Rohit, Suresh Raina, and KL Rahul).
Kohli joins Suryakumar Yadav, Rohit, Suresh Raina, KL Rahul, and Deepak Hooda as the 6th Indian to score a hundred in a T20 International.
In regards to the second-most international hundreds, Kohli is tied with Ricky Ponting with 71.
With six T20 centuries, Kohli is tied with KL Rahul with Rohit Sharma for the most amongst Indians.
Following Rohit, Kohli has become the 10th batter altogether and the second Indian to smash 100 sixes in T20I.
The highest T20I score ever recorded in a UAE match is 122 by Kohli.
After Rohit Sharma, Kohli has become the second player to score 3,000 runs in T20Is.
The eighth batsman to score 24,000 runs internationally was Kohli. He surpasses Sachin Tendulkar, who achieved the milestone in 540 innings, as the fastest player to 24,000 international scores in 522 innings.
He is the 3rd Indian to do it after Rahul Dravid as well as Sachin Tendulkar. In Men's Asia Cup T20 matches, Kohli has become the first batter to record a century.
Mohammad Nabi of Afghanistan and Virat Kohli both have received 13 'Man of the Match accolades in T20 Internationals.
Rohit Sharma was eclipsed by Kohli in becoming India's top run-scorer in Asia Cup history with 1042 runs.
Virat Kohli on his maiden 100 at T20I
Virat dedicated his 71 international hundred to his wife Anushka Sharma and Vamika, his daughter. He has scored the highest score in T20I cricket with 6 sixes with 12 boundaries. He is the oldest Indian batter with this hundred.